Social media has exploded over the last five years, and with good reason. It's free marketing for small businesses and they are taking full advantage. Social media provides a platform for businesses to reach a target marketing audience that includes current and prospective clients and customers. It is an important piece of marketing that is sometimes overlooked as a communication and branding tool.
Social media needs to be part of the marketing plan for small business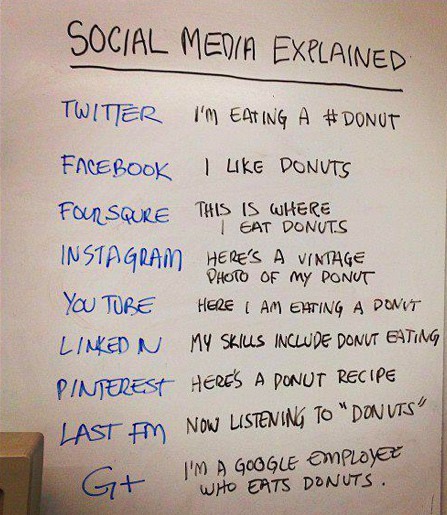 Perhaps social media is overlooked by small business because it is overwhelming. There are a lot of options to consider. Often there is limited time dedicated to social media and it is often not part of the marketing plan. Understanding the opportunity is important; so is choosing the right social media platform for your business. Here are tips for how to choose social media that fits your small business:
Facebook business pages: A website provides simple, user-friendly information about your business. A business page on Facebook provides a voice and character for your small business. It is where you can engage with clients and customers providing information and tips about your business or products. Facebook is engaging, informational and inspirational and may not be the right fit for your small business.
Facebook is not for every business. If you're selling a product to a small and/or specialized audience or user group or a highly regulated industry, this is probably not the place for you. This platform is best utilized by businesses who reach a large target audience with a product or service that reaches a variety of people or businesses.
Is there an option for social media beyond Facebook?
LinkedIn is a great option for businesses that are seeking other businesses as clients or referral partners. Financial services, insurance, law and real estate professionals are the groups that come to mind as benefiting most from LinkedIn. Utilize LinkedIn Groups to connect with referral partners and prospective clients. Ask and answer questions and share relevant articles and information to establish yourself – and your business - as the expert in your field. Consider starting a Group to attract the type of client or referral partner for which you seek. For example, if you're looking for other professionals within a certain industry, area of expertise and/or geographical area, you may be best suited to creating your own group and building a presence as the expert among your peers.
Why do small businesses love Twitter?
One of the reasons Twitter is loved and utilized by small businesses is the reach of its open network. Unlike most other social media platforms, Twitter is an open forum, meaning users can follow and be followed by anyone. You can follow celebrities and politicians or local businesses. There is no need to send a request to follow anyone on Twitter making it more powerful than any other platform. The biggest problem small businesses have with Twitter is themselves. Yes, I just said that YOU are your biggest problem on Twitter. Don't let someone else set up an account for your business and hope for the best. Have a clear picture of who you want to follow—perhaps an industry or profession—and then follow those Twitter users. You don't need to have specific names; search on Twitter for keywords and use hashtags (#) related to your targeted area of interest.
What is Google+?
It is Google's social media platform and could be the most powerful social media tool for small businesses. Small businesses can easily set themselves apart from others just by adding Google+ to their social media presence. This presence increases search engine results, driving traffic to the website. It sounds simple and it can be. Posts for Facebook might be conversational. The same message can be crafted with keywords on a Google+ update. It is the keyword usage that increases search results with the small business closer to the top of the list. Choosing social media that fits your small business can be overwhelming. Each platform has its own purpose -- Facebook is for conversation. LinkedIn is to connect B2B. Twitter is for sharing information. Google+ is to increase search engine results and sharing information. It is important to understand these subtle differences to optimize your small business social media presence.