Did you know that 25 percent of the web runs on WordPress? This makes it by far the most popular CMS available? There's a reason for that. WordPress has evolved from a simple blogging application to one that any person can use to develop their entire website. It's no surprise that many small business owners who use Infusionsoft also use WordPress because of the total cost of ownership, extensive capabilities, and rapid deployment. And they use Infusionsoft because it helps them get organized, save time, and grow sales.
Infusionsoft users represent successful small businesses because they have three great problems to solve for: the need to generate leads, follow-up with those leads, and to sell products and services online. A popular inquiry is how to make the most of a Infusionsoft Wordpress Integration.
Here are some best practices when using WordPress effectively with Infusionsoft.
What is meant by a 'self-hosted' WordPress installation?
To get stated, I want to explain the differences between WordPress.org and WordPress.com.
WordPress.org refers to the community-provided open source application of WordPress that you can use to host onto your own web host such as a Bluehost, Dreamhost, GoDaddy, or Hostgator. Many hosting providers today see the value in WordPress and have done all the technical work for you by easily provisioning the site space, permissions, MySQL, and even bundling themes for you.
WordPress.com refers to a free and paid hosting service operated by Automattic. They use a slightly modified version of WordPress.org, but because they host millions of free and paid WordPress sites, they have restrictions in place to prevent code modifications. This is a wise move to maintain optimal security and performance, but is a major drawback for those who want to customize their WordPress installation beyond the defaults provided.
I recommend that you use the community-provided version of WordPress (.org) simply due to the flexibility that you have to modify the code and to streamline costs.
Most small businesses can afford a $10 domain and about $200 of hosting services annually. As traffic demands increase, there are premium WordPress hosts available like Pagely, WP Engine, or Pressable that can scale to your needs. Most quality web hosts have easy-to-use control panels that guide you through setting up your WordPress site easily. We're actually customers of WP Engine and have been been thrilled with their service and support. In the world of WordPress, you get what you pay for. For the rest of this guide, I'll refer to capabilities on a self-hosted WordPress site. In other words, not hosted on WordPress.com.
How to use WordPress with Infusionsoft 
1. Choose a reputable WordPress theme or theme framework
If you're using an older theme that wasn't designed in the past year, you may have problems with taking full advantage of WordPress' latest features. Make sure whatever theme you use is supported with frequent updates from the developer.
Instead of sticking with a simple one-time-use theme, it may be better to use a powerful theme framework like Thesis by DIY Themes or Genesis Framework by StudioPress. These theme frameworks are designed with commercial use in mind, offer more support, and have a number of customizations available right out of the box. They cost about one month of cable, so they're not out of reach for small businesses. 
If you're on a budget, you could use many other amazing free themes available on the WordPress Theme Directory, but they vary greatly in their features, support, and flexibility. If I had to recommend one, I suggest to try Responsive because it is flexible and can do pretty much anything an Infusionsoft user would want like simple landing pages, conversion-focused design and responsive compatibility.
2. Use widgets for Infusionsoft web forms
Infusionsoft provides you three options when using Web Forms: JavaScript and styled and un-styled HTML code.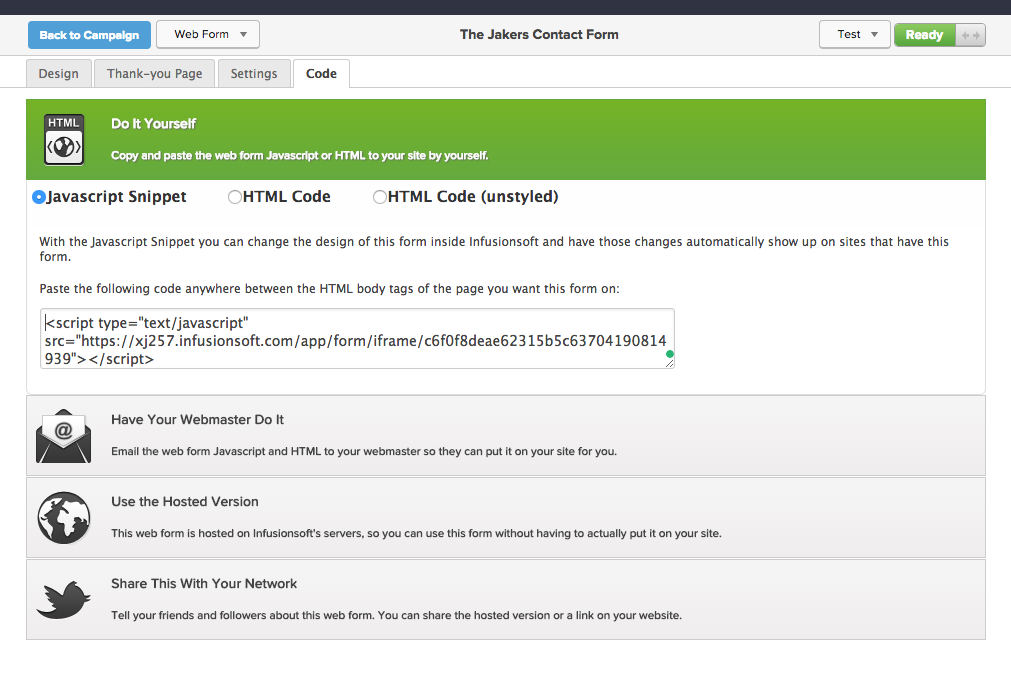 I recommend using the one-line JavaScript code unless you plan to get advanced with the display of your Web Form (like Chris Brogan). In WordPress, widgets function as areas where you can put custom content throughout your site. It does more than sync your Web Form with Infusionsoft, it tracks visitors' activities so you can see what content they viewed before they opted in.
To use an Infusionsoft Web Form in your sidebar, simply drag over the "Text" widget and put your Web Form code there.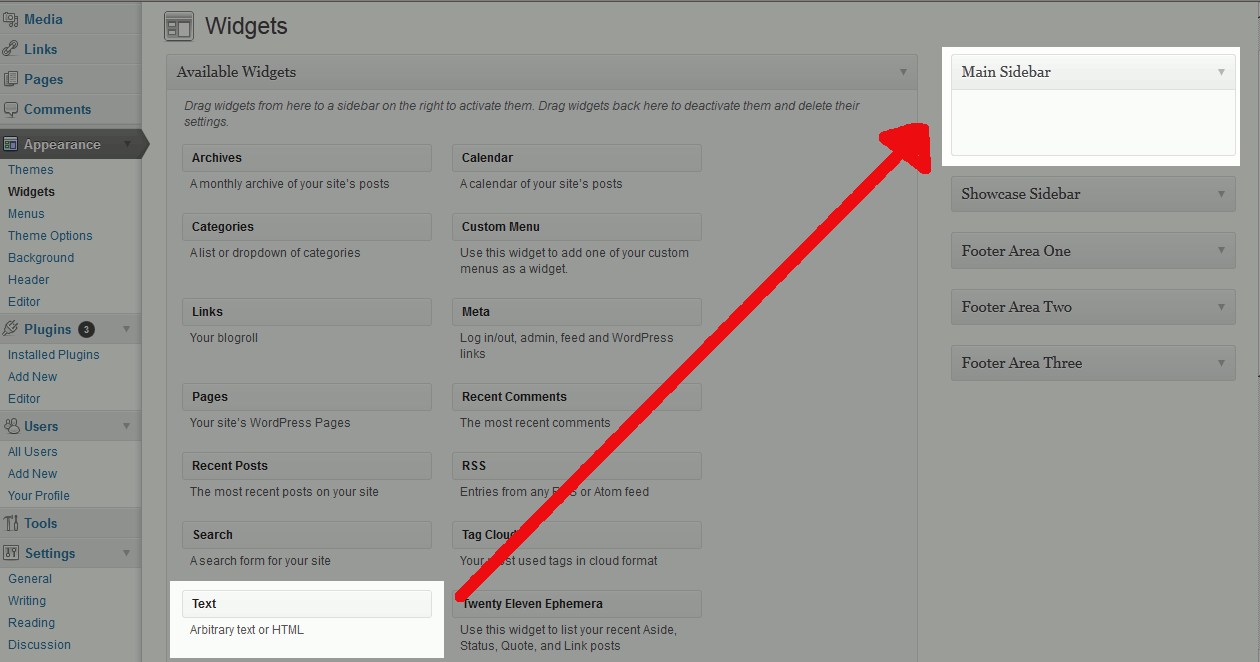 (source: inmotion hosting)
3. Add the Infusionsoft analytics code to your footer
If you don't already have a JavaScript-based Infusionsoft Web Form displayed on your site, you can still track leads and conversions with the Infusionsoft Analytics code. Many WordPress themes are different; so if you already know how to add tracking scripts (like Google Analytics), then simply add the Infusionsoft Analytics code there.
To make things easier, check out this free plugin that adds the Infusionsoft Analytics code to your site. Be sure to never change core WordPress files like footer.php—as updates will overwrite your changes. This plugin is unsupported, but it's fairly lightweight and easy to use.
Here's an Infusionsoft Help Center post on how to set up the plug-in.
4. Use WordPress pages as thank-you pages
Infusionsoft users have the choice to use Thank-You Pages within their Infusionsoft account or to point people to another URL. You may want to point people to a specific page on your site in lieu of the standard Infusionsoft templates in the app. I like doing this myself because it gives people a very consistent look and feel for your brand after they signed up. Here's how to do that.
When designing your Thank-You Page in Infusionsoft, create a Page in WordPress and copy and paste its URL into Infusionsoft's Thank You page URL.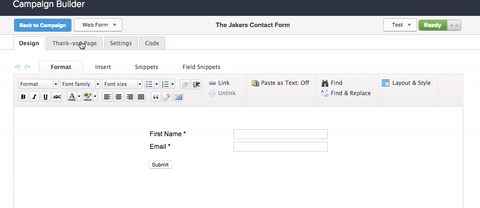 When you implement these suggestions, you'll be using WordPress effectively with Infusionsoft. It's a good idea to stay on top of updates to WordPress for security, performance, and reliability reasons. Be sure to keep your plugins updated as well.
What about e-commerce in WordPress?
I'll be honest with you in saying that e-commerce is not one of WordPress' strengths. However, if you plan to sell products through your WordPress site, you could use an e-commerce toolkit named WooCommerce for this purpose. Beware though, it can get very technical and complex to setup, but it has a great reputation among the WordPress community. If you use Infusionsoft, it's best to use links to your e-commerce features (like Order Forms and Storefronts) within your WordPress posts, pages, and menus.